What is BA15S?
BA15S is the size of an LED lamp. This size only fits in a certain fitting. examples of other sizes are: T10 W5W, C5W, 36mm Festoon, 41mm Festoon, Ba9s, Ba15s, BaY15D. BA15s is mainly used in the direction indicators and rear lights for cars. This is a single function lamp of indicator, tail light and reversing light. The characteristics of the BA15s automotive lamp are reflected in the lower bayonet connection with two pins on the side. The BA15S LED Canbus, is the variant that uses CAN-bus proof for in your car. would you like to know more about for example: Canbus proof LED lights then read more in the blog!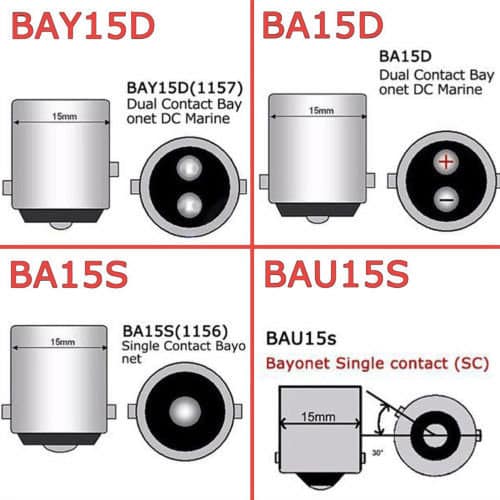 What is a canbus?
CAN is an acronym for "Controller Area Network". <Canbus is a serial protocol for transmitting data between electronic components in a car without the use of a central computer. Canbus controls the power consumption of the car through data transmission.
CAN A BA15S LED LAMP CAUSE PROBLEMS ON THE CANBUS?
The LED Canbus BA15S version ensures that you will not get a malfunction when replacing LED lights. Another way to make the BA15S LED bulb work properly is to add a resistor. A resistor provides a higher rated current which makes the on-board computer recognise the bulb. TRALERT® offers resistors of 12 and 14 volts feel free to take a look.


Why Led BA15S?
Why do you choose for LED Canbus BA15S? Because this set is suitable for replacing your current brake lights and tail lights. LED BA15S fits in the brake lights, tail lights and turn signals socket of your car. The LEDs also fit in the other BA15S fittings. The LEDs make it a great replacement for your current brake light and tail light. The high light output makes it a perfect replacement, because of the canbus system there will be no interference in your dashboard. Because of the parabolic lens of the LED bulb you will get a nice image.
HOW DO YOU MAKE IT WORK WITH THE LED CANBUS BA15S?
Simple, twist the two cables together with both ends. By using data traffic, the priority between the subsystems connected to Canbus (engine management, temperature control system, ABS, ESP) is transferred via the protocol. Thanks to LED Canbus BA15S, the entire electronic control of all electrical equipment, such as doors, is controlled via two thin wires.
ARE THERE ALSO NON-CERTIFIED BULBS OF THE BA15S BAYONET FITTING?
Yes, there are non-certified lamps in the market. The operation of this non-certified version claims to be plug-and-play and uses a bayonet fitting. The fitting BA15S (bayonet) is mainly used in brake, blinker and rear lights.