Despite the fact that it is not common, it is possible to connect LED work lights to a trailer. In this blog we will tell you more about connecting work lights to a trailer. In addition, we explain what to look for when looking for the right LED work lights for on your trailer or trailer.
A LED worklight on a trailer is actually an addition to the normal set of lights. The normal set of lighting on a trailer consists of: combination rear lights (rear light, brake light, indicator light, fog light and a triangle reflector), marker lights and width lamps.
The LED work lights are not necessary on a trailer. In addition, the work lights may not be used on public roads. As the name of the lighting category already partly betrays, the work lights are intended to be used exclusively while working in the dark.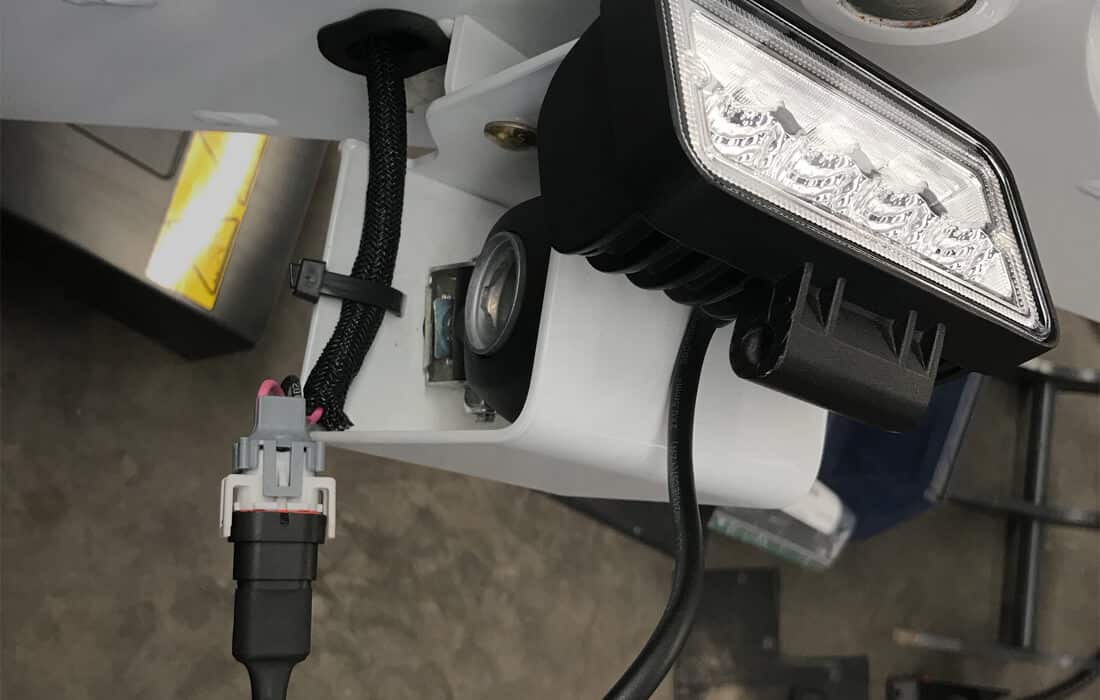 Connecting work lights on trailer as reverse light
In many cases, LED work lights on a trailer serve as a reverse light. This category of work lights is designated by an ECE-R23 certification.
If you decide to connect an additional reversing light, it is important to observe the following guidelines. When using an R23 certified LED worklight, it is important that the worklight is placed no higher than 1.2 meters and no lower than 0.25m. This creates a specific angle of 30 degrees, which can prevent dazzling to traffic behind. Connecting an additional reversing light is of great value when you have to drive backwards with your trailer in the dark. This form of additional lighting ensures that you have sufficient visibility of what is happening behind you.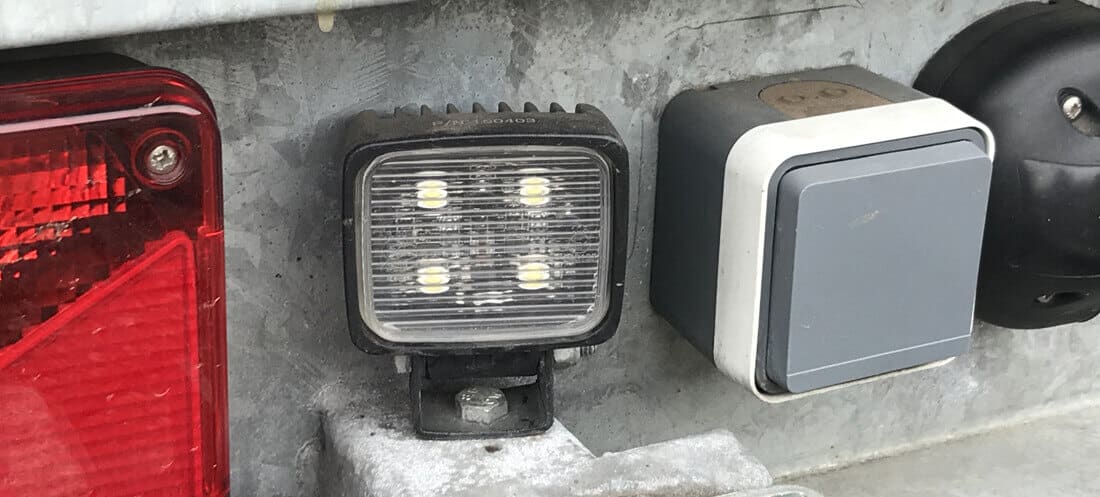 LED work lights fail when connected to trailer
When you connect work lights to your trailer, the towing vehicle may not detect the LED lights. This is because the LEDs do not require enough power from the towing vehicle, that the vehicle does not detect the lights. This problem can be remedied by adding a power resistor to the vehicle. A power resistor allows the lights to be recognized and the lights to work properly.
In addition to resolving the problem, you could also opt for LED lighting that is already equipped with a standard CAN-bus proof solution. This will also solve the problem that your towing vehicle does not detect the LED lighting. By choosing a CAN-bus solution, the vehicle will recognise the LED lighting and therefore it will not cause failures.
Connecting work lights to a trailer can be done through different connections
There are several ways to connect a LED work light to a trailer. Below the most common connections are explained in more detail.
Deutsch connector
The Deutsch connector is a commonly used connector when connecting the work light to a trailer and are available in different lengths up to 4 meters. The advantage of a Deutsch connector is that the assembly in the cable system is easy to connect compared to other connectors.
Of course, it can happen that an LED worklight on your trailer is broken. In such a case, replacing the worklight is very easy. You can very easily disconnect the broken worklight and replace it with a new LED worklight. This is because the LED worklights are equipped with a simple Deutsch connector.
The Deutsch connectors come in different lengths with the possibility of branching. This allows you to connect more work lights to your trailer. It is also possible to connect a Deutsch connector to your existing cable with a connection set.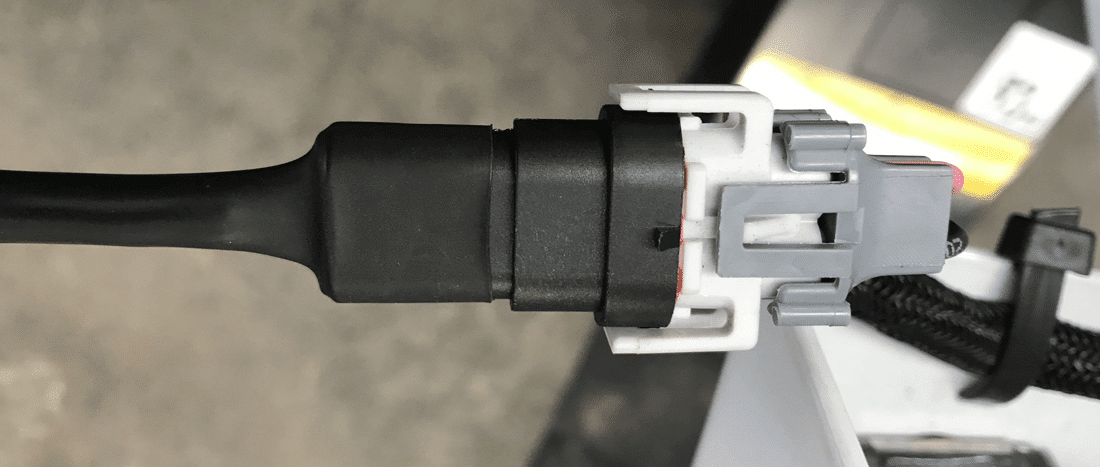 AMP Superseal connector
The AMP Superseal connector is a waterproof connector that can withstand harsh conditions such as exposure to fuel, oil, salt etc. These connectors are used in many different industries such as agriculture, machinery and automotive and therefore good to use when you want to connect a work light to a trailer.
Please note that the connectors are IEC529 and DIN40050 certified for water tightness.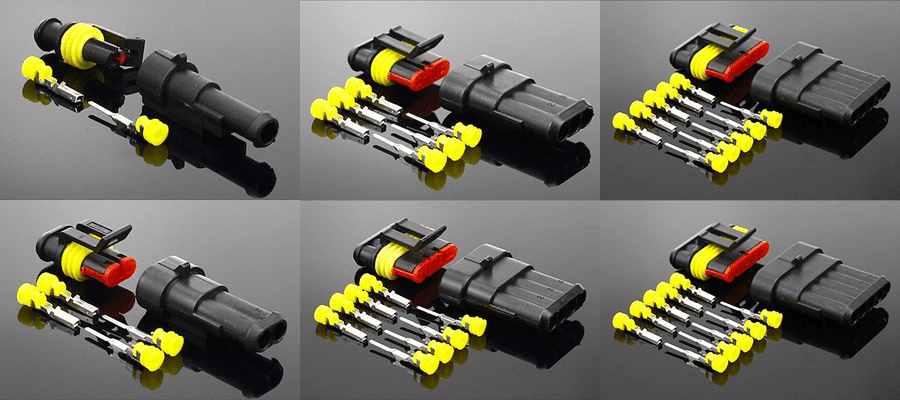 Connection box/distribution box
The connections are linked using a junction box. This connection box can be used as a central box in which the connections are linked. This can be used well when you want to connect work lights to a trailer. From the towing vehicle, a central cable goes to the junction box from which all the lights are controlled on the trailer.