When connecting LED lights to your trailer, it can happen that the lights do not work or that the LED lights blink. This is annoying, but fortunately there are several solutions for problems with trailer lighting. So you don't have to worry if the LED lighting on your trailer is flashing. In most cases, this is due to the CANBUS system of the towing vehicle. This is a safety system for data transfer between electronic components in a car, without the intervention of the central computer. In general, LED lighting has many advantages. However, in terms of connection to (older) vehicles, such problems can sometimes arise. One of these problems can therefore be a blinking LED lamp. We would like to explain to you how it is possible that the LED lighting on your trailer does not work. But more importantly, we'll explain how you can solve the problems.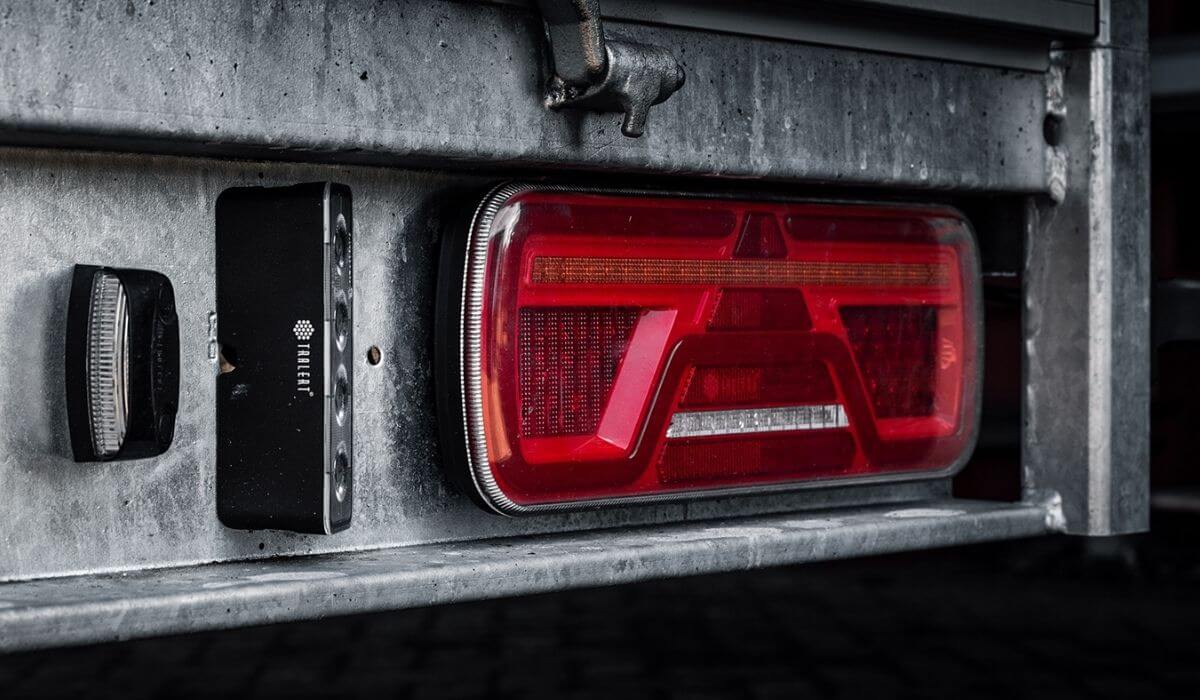 Is your trailer ready for LED lighting?
More and more "old" lighting is being replaced by LED lighting. This is because LED lighting has many advantages over conventional lighting such as halogen. Halogen lighting, for example, loses a lot of energy to heat. This is not the case with LED. LED lighting therefore lasts longer. Furthermore, LED lighting is more resistant to surges and is more easily available in many shapes and colors. Would you like more information about the differences between halogen and LED? Then read our blog: Halogen vs LED, the differences.
Because LED lighting loses less energy to heat, it also needs less energy to shine. Due to the lower energy demand, it happens that the LED lighting is sometimes seen by the on-board computer and sometimes not. There is simply too little resistance given off to the towing vehicle to measure whether the light is working or not. This results in an error message on the dashboard or a varying resistance note. The varying resistance note causes the LED lights to flash. More information on how to solve this will follow later.
Different lighting for trailers
Faults with the lighting are of course very annoying and you do not want this. Especially considering you sometimes can't figure out where the fault comes from with the amount of lighting you have on a trailer. There are many lights available and some of them are mandatory. Typical mandatory lights are license plate lights, tail lights, retroreflectors and side markings. You must have these lights on constantly when driving on public roads. Except for the mandatory fog light and flashing light, of course. It also depends on the width of your trailer whether or not front position lamps are also required. You can read exactly what rules apply to different lights in our blog on "What rules apply to lights on a trailer?"
What causes non-working LED lights?
Newer cars are equipped with the previously mentioned 'CANBUS system'. This system ensures that any error messages are made clear to the driver. You can think of it as a tool that simply detects faulty parts of a car. The system knows that, in the original situation, a certain amount of energy has to go to the trailer lighting. So, as indicated earlier, LED lighting consumes a lot less energy. The CANBUS system detects that much less energy is going to the lighting and therefore thinks that the lighting does not have enough energy to burn. As a result, the on-board computer mistakenly thinks there is a defect.


How should I solve the problems with my LED lights?
Problems with the lighting on your trailer are common (e.g. LED lights flashing) and therefore - fortunately - different solutions have been devised. Each solution has its own advantages and disadvantages. Not every solution is suitable for every situation. So pay close attention to your situation and what is best for it. If you do not find the solution, you can always contact us. Some solutions that you can find in the TRALERT® assortment are the ILS microprocessor, the LED control box, resistors and the ZS-Canbus wiring unit. Also, you can find plug and play Canbus Proof lamps that have been extensively tested on various tow vehicles.
ILS microprocessor
An ILS microprocessor is a very simple solution to the problem of LED lighting for your trailer. The microprocessor makes a branch of the existing signal. This signal is then sent by the processor without an error message. This ensures that the LED lighting on your trailer will work again. Remember that every light needs an ILS microprocessor. If you do not, you will be stuck with a blinking LED light.
TRALERT® has various microprocessors in its product range. The difference lies in the number of pins and the voltage. The ILS microprocessors from TRALERT® are available with 3 pin and with 4 pin. Both options are equipped with 12v and 24v connections. So have a good look at which microprocessor is applicable to you.
Featured product


ILS-3P12 microprocessor


The ILS-3P12 is one of the microprocessors from TRALERT®. The processor prevents error messages on the on-board computer. This CANBUS solution is 3 pin 12v equipped. An ILS microprocessor is required for each lamp.


View product
LED control box
Another option is the LED control box. This also ensures that the lighting is working properly again. The control box has several advantages compared to the ILS microprocessor. A big advantage is that you only need one control box. Even if the on-board computer gives several error messages, one control box will solve your problem. The control box is very easy to install by means of plug & play assembly. This saves a lot of costs in comparison with other options. The control box is often used for problems with a trailer. An ideal solution for the problems with the LED lighting of your trailer.
TRALERT® offers two different control boxes. Both have a 12 V connection. This is because the control box is often used with a trailer. 12 V connections are used in most cars. This is why this is a good match. One control box has a 7-pin connection and the other has a 12-pin connection. That is the only difference between the two control boxes.
Featured product


V10AC-CTRL7 Control box


This LED control box ensures that the LED lighting on your trailer simply works. Prevent flashing LED lights. The control box is often used for trailers. One control box is enough to make all the lighting work. Besides this 7-pole control box, there is also a 13-pole control box available.


View product
Resistors
A common way to solve malfunctions is the use of resistors. Resistors also ensure that the CANBUS system does not give error messages. Just like with microprocessors, a resistor is needed for each error message. This makes a resistor a bit more difficult to use compared to the control box. The advantage of resistors is that it is easier to work with certain vehicles. The control box is ideal for the trailer but is less likely to be used in other vehicles. Resistors are easy to use for different vehicles.
TRALERT® has two different resistors in its product range. The difference is in the voltage. One resistor is suited for a 12 V connection. The other resistor is suitable for a 24 V connection. The different resistors are therefore also designed for different vehicles.
Featured product


LR12 power resistor


The power resistor is an ideal solution for non-working LED lights. The resistor ensures that the LED lighting simply works again on your vehicle. No more error messages or blinking LED lights. This resistor is for 12v, there is also a resistor for 24v available.


View product
ZS-Canbus
The ZS Canbus cabling unit is slightly more difficult compared to the other solutions for trailer lighting problems. The cabling unit has to be built into the vehicle. Once you have built the unit in, you will never have to count on an error message again. In the long run, this is a very good solution.
Featured product


ZSCANBUS wiring unit


The ZS Canbus cabling unit is a good option to solve problems with the LED lighting. When the cabling unit is installed, you will never have to count on an error message again.


View product
Canbus Proof lamps
Another possibility to prevent problems with your trailer lighting is to use Canbus Proof LED lights. When the lighting that is used on a trailer is Canbus Proof, you can be sure that you will not get an error message. Prevention is better than cure. A Canbus Proof bulb is the solution when it comes to LED lighting that does not work. There is no need to build in or place anything. The Canbus Proof bulb gives you the certainty of good working LED lights.
If you already have the non-optimum working bulbs, the Canbus Proof bulb is probably not the option for you. In that case, it is best to opt for one of the three other solutions for lighting problems for your trailer. If you still have to purchase the lighting, you should definitely look at the Canbus Proof lamps.
Featured product


VC-2712B5CAN Canbus proof rear light


This handy CANBUS proof tail light prevents error messages on the board computer. The bulb is 99.9% CANBUS proof. Furthermore, the lamp is equipped with a convenient 5-PIN connector and 12v.


View product
Why TRALERT® solutions?
As previously mentioned, TRALERT® has many different solutions for trailer lighting problems. There is a good solution for every situation. In addition to its wide range of solutions, TRALERT® also has its own technical service department. If you have any questions, please contact us. We will help you with personal solutions for the flashing LED light. In addition, personal advice will allow you to quickly solve LED lamp malfunctions. TRALERT® has 90% of its products in stock. If you place an order before 15:00 hours, we will ship it the same day. You can expect the product the next day and have the blinking LED lamp working again.