The '6-PIN bayonet connection' is also called a '6-pin plug'. You will find this connection mainly on Fristom lights. The connector looks very much like the much used Aspöck variant with 5-PINs or 7-PINs. However, within this connector only six poles are used. Bayonet connectors are the waterproof connections between cables and (LED) lights. By means of a twist system which is processed on the outside of the connector, you can fix the connection pins into each other. Because by doing so you ensure a current-carrying connection. The 6-pole connector is used relatively little. For example, the connector cannot be used on boat trailers.
What does the diagram of the 6-pole plug look like?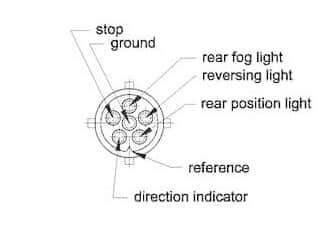 What functions can you find in the 6-pole plug?
The connection actually contains all the functions you are used to from a 5-pole, 7 pin or 8-pin plug. So you can find a pin for your stoplight, your earth, your rear fog light, your reverse light and of course your direction indicator & position light.
What is the difference between the 5-pole and the 6-pole?
Het verschil tussen de 5 PIN en de 6 PIN is het kentekenlicht. Bij het gebruik van een lamp die 6 polen ondersteunt, zou u moeten kijken naar een wiring harness that fits it. In many cases, this wiring harness contains one side where the 6 PINs are used. On the other side, you will find the 5 PINs connection. Please check carefully whether this is the right or left side. That way you know for sure that you will be able to mount your lights correctly.
Some LED rear lights that you can find at TRALERT® that are equipped with this connector are the, 500 series rear lights and the 3300 triangle lights. These are both Fristom models that have this connector in the rear of the lamp as standard. An example of the 500 series rear light with this connector can be seen in the following picture.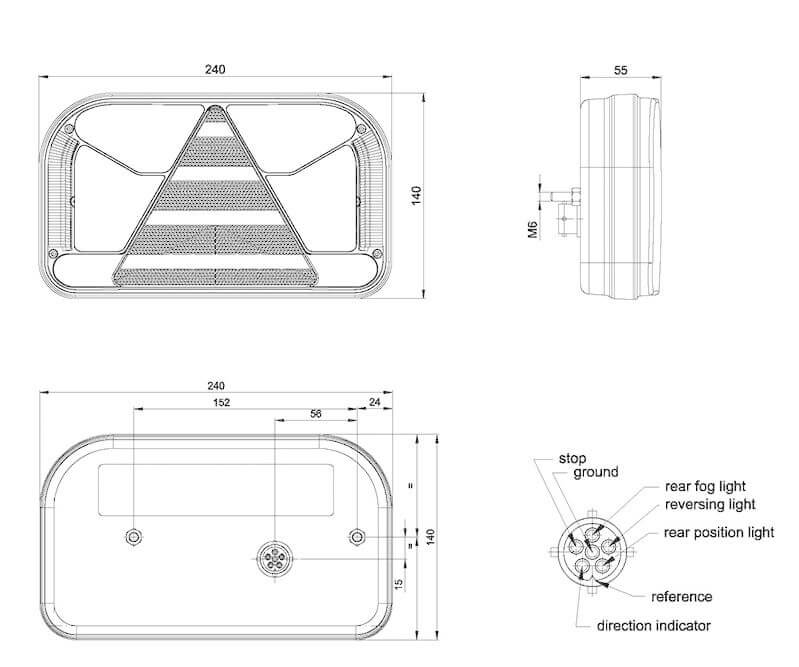 Would you like more information on connectors and their use? Then get in touch with our lighting specialists. They will be pleased to help you find the right connector for your trailers. A useful tip is to always put a little grease, for example copper grease, on the connector. This makes the connector more resistant to water. Even if you want to know more about matching cable harnesses, you can get in touch with TRALERT® specialists. We will be happy to make tailor-made wiring harnesses for you in order to provide your vehicles with the best possible durable and good connections.