Cheap LED worklights often seem like an attractive choice at first glance, but we recommend that you look beyond the purchase price. When you buy a new set of cheap LED work lights If you have purchased LED work lights to support you in your work in the dark, it is important that these lights are reliable. If you search for "cheap LED worklights", you will soon find suppliers offering worklights at the "best" or "cheapest" price. This may seem interesting, but in practice it can be quite different. In order to better prepare you for your purchase, we hereby offer ten tips on what to look out for when buying LED worklights.
Tip 1. Is there a CE mark engraved in the LED work light?
Certification of LED lights is an expensive and unfeasible process for many manufacturers. It is therefore common for cheap LED worklights not to have an official CE mark. To begin with, in many cases the required 'CE marking' (Conformité Européenne) is missing. The CE mark indicates that a product complies with the rules within the European Economic Area. The marking is easily confused with the logo that China uses for its export products, namely 'Chinese Export'.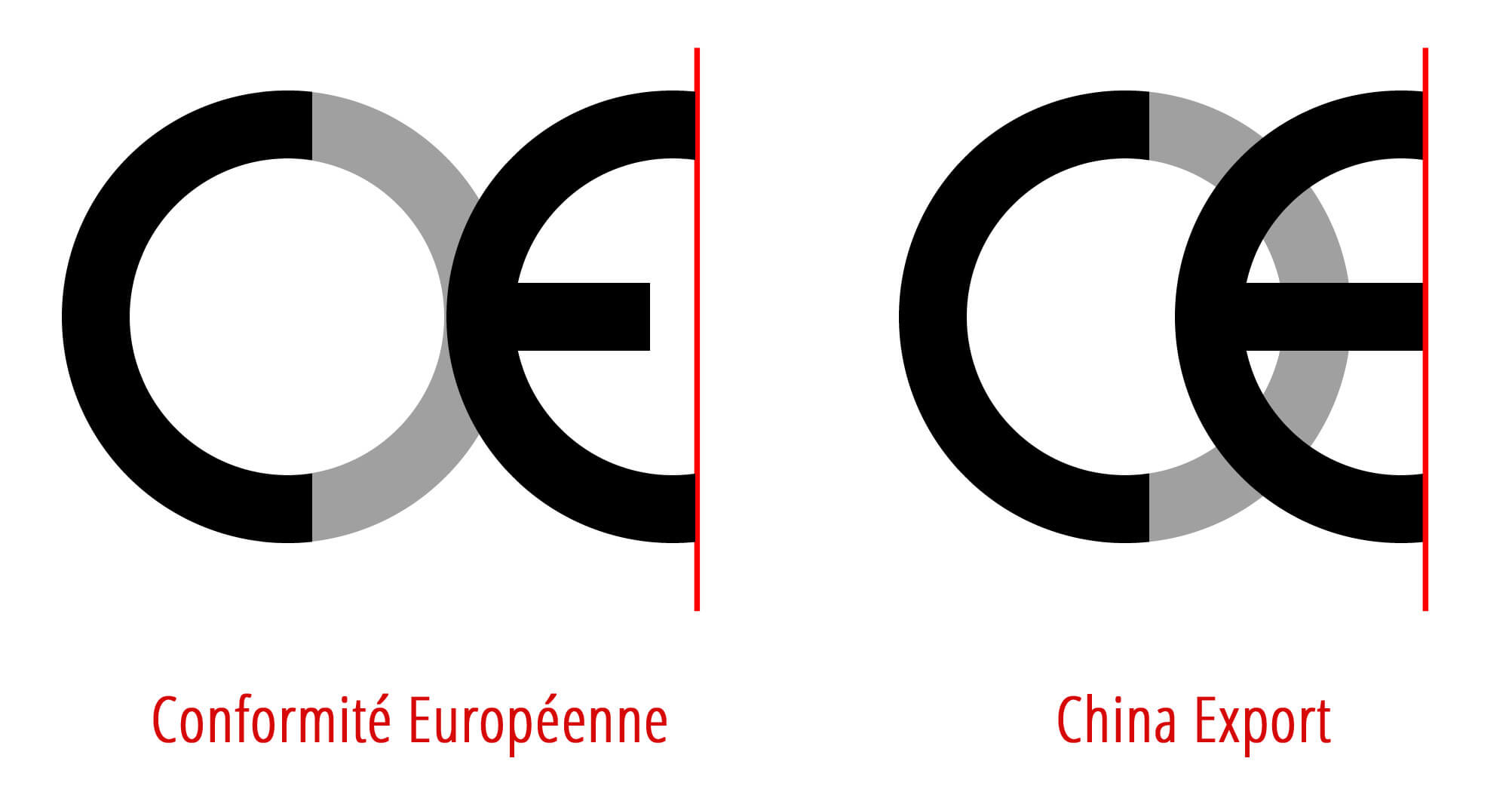 The difference between an official CE marking and the China Export logo can be recognised by the larger distance between the C and the E in the official logo of a CE marking. In addition, the length of the middle 'stem' of the E is shorter, as can be seen in the picture.
ATTENTION: If an accident occurs due to, for example, glare from uncertified lamps, you may be held liable for any consequential damages. When buying LED lights, always pay attention to the CE mark, which is engraved in the housing.
Tip 2. Does the worklight have a high degree of EMC suppression (including official EMC suppression)?
The last thing you want are LED work lights that interfere with radio or other electronic devices. To ensure that your LED lights do not interfere with the radio, a high level of EMC suppression is necessary. We have found that cheap LED work lights do not contain this interference suppression nine times out of ten. Electromagnetic Compatibility or the 'EMC component' is the part that prevents electromagnetic influence between different electronic products or systems. A good LED worklight always has a high degree of official EMC interference and you can always ask your supplier about this.
Tip 3. Pay attention to the materials used in the work lamp and how is the finish of this is
The best LEDs used on vehicle lighting come from manufacturers CREE, Philips, Epistar or Osram. The LEDs produced by the above names are known for their long life and light intensity. In cheap LED worklights, these LEDs are often not used and you will therefore notice that the light intensity decreases the longer you use the light. Also, these weaker LEDs are mounted on blank universal circuit boards with fewer solder joints. The result of this is that the LED work light is less resistant to vibrations. In the comparison below, photos were taken of various printed circuit boards. Here you can clearly see the difference in finish.

What stands out:
Printed circuit boards are poorly finished at 'cheap LED work lights'
Universal circuit boards have been used that do not fit the housing exactly
Printed circuit boards contain only two screw fasteners
Solderings are carelessly placed.
Tip 4. Pay attention to the cable thickness of the LED work light
Overheating, a nightmare for any LED work light. When purchasing an LED work light, always pay attention to the cable thickness. This is a strong indication of the care, durability and finish of your lighting. With inexpensive LED work lights, you'll notice that they often skimp on the cable and connection of the LED light. This is concerning, as we are talking about the lifeblood of the worklight.
An investigation by our technical department revealed that the cabling of cheap work lights consisted of fewer copper wires. The danger of having too few copper wires in the wiring can cause your lights to overheat. In addition, the wires play a major role in providing a solid power supply to your lamp. This ensures minimal resistance. For example, see below an image of a TRALERT® work light and a copy of it.

Tip 5. Pay attention to the waterproofness of the LED work light
One of the features that distinguishes good LED worklights from cheap LED worklights is the degree of waterproofness. The degree of watertightness is indicated by a IP coding. It indicates the degree of protection against moisture, dust or penetrating objects. A good LED worklight must continue to perform in different weather conditions. Even in the pouring rain.
When purchasing a good work light, we recommend that the LED work light has at least an IP rating of 67 (IP67). This standard is considered to be splash proof. However, the work lights with IP67 are not high pressure resistant. This means that when cleaning your truck, the lamps are not able to withstand this directed jet of water. Full waterproof models are therefore designated IP68 of which LED work lights with an IP69k designation are specifically tested for high-pressure water jets.
Tip 6. Look at the thickness of the metal on the connection bracket of the LED work light
The base of an LED worklight is in many cases made of metal and is a wonderful indicator of quality. When comparing TRALERT® work lights with some cheap LED work lights, our technical department found that the brackets used during the production of cheap work lights are 0.50mm less thick. Because the connection bracket is less thick, there may be a less covering connection between the LED work light and the machine.
Tip 7. See what accessories are included to attach the LED work light
Not every machine is the same, which means that the connection can differ per worklight and per machine. When you buy a cheap worklight, you can assume that you will be supplied with a single connection method. In the picture below we compare the TRALERT® LED worklight TRA303P0403 with a cheaper variant of one of our competitors.

Tip 8. Cheap LED work lights? Look at the warranty period
When your newly purchased LED work light breaks down, it is of course already very annoying. Even more annoying when you find out that there is no warranty on your cheap LED work light. When buying a LED work light, always pay attention to the supplied warranty period. This way you will never have any surprises.
Tip 9. See what voltage range the work light contains
When buying an LED worklight, always pay attention to the voltage range. The voltage range is particularly important in the LED worklight category. In this category, the voltage range can differ between worklights in the 12v/24v. However, TRALERT® also offers work lamps in the multivoltage category. These have a voltage range between 9v and 36v. The reason that TRALERT® worklights have a wider voltage range is because peak voltages can occur when starting up a vehicle. At high frequencies of high voltage, cheap work lamps can stop working. The lamp will burn out or become defective in such a case.
Tip 10. The number of lumens is important - the light distance and dispersion even more important
Lumens and lens technology, a fantastic combination or a spark that never fails to ignite. If you are looking for a powerful worklight, the number of lumens is probably the first thing you look at. When buying an LED worklight, luminosity is extremely important. However, there are other factors that are important in determining whether a worklight is effective or not. A LED worklight with only LEDs without (mirror) lens technology will only have a limited light spread and light distance. It is therefore essential that your worklight, in addition to a high lumen output, is equipped with a strong lens technology. Some of the lens techniques that TRALERT® uses are the well-known RFT lens technology and the new Fish-eye lens technology.
More information about LED worklights?
Are you about to buy a new set of LED worklights, but don't know where to start or what to look for? Feel free to contact our technical department. They will be pleased to help you in your search for the right LED lighting.