The registration requirement for tractors and other agricultural vehicles. This has been a topic of discussion in the Lower House for years. "If you want to take a fast E-bike or scooter on the road, you need a registration number. But not with a tractor." This discussion has led to the political decision to introduce compulsory registration for tractors and agricultural vehicles from 1 January 2021. With a few exceptions, every agricultural vehicle will have to have a registration number. At the same time, the maximum speed of a tractor will be increased from 25 kilometres per hour to 40 kilometres per hour. A compulsory licence plate should of course also be fitted with the appropriate lighting. TRALERT® can help you find the right LED lighting for your licence plate.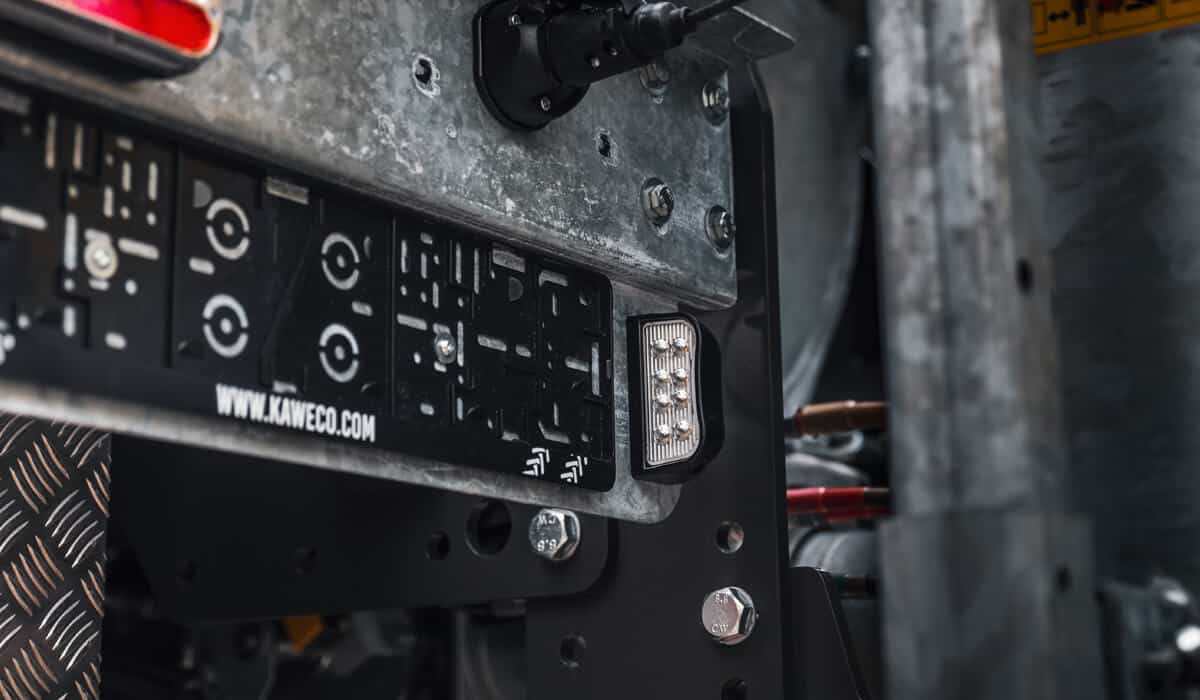 Agricultural vehicle registration valid from 1 January 2021
The registration obligation therefore entered into force on 1 January 2021. What does this mean in practice? First of all, the RDW has started a registration system. It is important to register your agricultural vehicle before 31 December 2021. Once this date has passed, it is no longer possible to register your tractor via the RDW website.  The costs for the registration are €18. After 31 December 2021, your vehicle must first be inspected. The inspection involves extra costs. The cost of the inspection is €200. After the registration, you will receive a registration card with which you can comply with the permanent registration obligation for agricultural vehicles. Furthermore, the RDW aims to provide all registered vehicles with a registration plate from 1 January 2025. When you have received your registration plate, you must attach it to the back of the agricultural vehicle.
Which agricultural vehicles are subject to registration?
Since 1 January this year, all agricultural vehicles that drive faster than 25km/h must have a yellow number plate. These tractors are therefore subject to registration. However, the yellow number plate is only for tractors that have registered with the RDW by 2021. Trailed vehicles that have not registered with the RDW carry a white serial plate. Then they may be driven up to 25 km / h.
Licence plate compulsory in the following situations
A licence plate is compulsory when your vehicle meets one of the criteria below:
The agricultural vehicle drives faster than 25 km/h;
The vehicle was put into service after 31 December 2020;
The vehicle has an exemption requirement.
Exceptions to the standard registration requirement for a tractor
In some cases, there are exceptions. Then it is not compulsory to have a registration number. This applies, for example, to vehicles that are only used on private property and do not enter the public highway. Good examples are fruit-picking trains or ride-on mowers up to a maximum width of 1.30m.
What do I need for registration?
Before you can register your tractor or other agricultural vehicle, you need certain documents. Without these documents it is not possible to register your vehicle. First of all, you need the VIN. VIN stands for vehicle identification number. This is also called the PIN, frame number, chassis number or production number. This number can be found on the construction or type plate of your vehicle. Besides the vehicle identification number, the make of your vehicle is also important. The type or the trade name of the vehicle is also important. The year of construction, the maximum construction speed and the vehicle category are also required when registering your tractor. Finally, the type of fuel the vehicle uses is also important. All of this information is required before your vehicle can be registered.
Why is your tractor subject to registration?
As previously reported, there have been many discussions in the Second Chamber about whether or not a registration requirement should apply to tractors or other agricultural vehicles. Eventually, at the end of 2020, the Lower House decided that this obligation would be introduced. This is earlier than expected. The intention was always to provide all agricultural vehicles with a registration number in 2025. The law has therefore come into force a number of years earlier. But what is the reason for the registration requirement for agricultural vehicles?
Politicians welcome the fact that an agreement has finally been reached. According to them, it brings several advantages. The registration requirement makes it easy to find out whose tractor it is in the event of theft. It also creates more clarity when there is an accident. Ultimately, it is also important for traffic safety. Because of the compulsory registration, traffic violations can be fined. When someone with an agricultural vehicle commits an offence, the fine will be sent to the right address via the registration number.

How many number plates on agricultural vehicles?
In the Netherlands it is compulsory to mount one number plate at the rear of the tractor. So if your tractor has a number plate, this is approved by the RDW and the Ministry of Infrastructure and Water Management. It is also possible to drive through Belgium and Germany with this single licence plate. These countries have agreed to approve agricultural vehicles with one Dutch licence plate on the back of the vehicle.
In what name will the registration be made?
Of course, it is important to know in which name the registration will be made. You can apply for the registration of your tractor either as a business or private person. Each option has its own consequences. In the case of a partnership, the registration will be in the name of the partners. It is not yet entirely clear whether it is possible to use the partnership name as a bv.
Be quick!
It is very important that you register your vehicle quickly. In early September 2021, the RDW issued a press release stating that only 42% of vehicles are expected to be registered. This means that in the last quarter of the year, almost two-thirds of vehicles will still have to do so. Registration is not always easy, which is why the RDW is keen to help owners. However, the RDW does state that it is not possible for everyone to call at the last minute. You may then have to wait a while or not be able to count on any help at all. The waiting times may mean that your agricultural vehicle does not have a registration number before 1 January. So be quick about it to avoid unnecessary costs.
Tractor registration requirement? Think of your agricultural lighting set
The compulsory registration of agricultural vehicles has also meant that your lighting set needs an upgrade. For example, it is important that your licence plate holder is equipped with lighting. We also call this category of lighting LED license plate light. As with other vehicles, the licence plate holder with lights is clearly visible from a distance of 20 metres. This applies at any time of day.

What is a licence plate light?
A licence plate light is the category of lighting that ensures that the licence plate of your agricultural vehicle is clearly legible in the dark. These lights are also known as licence plate lights or number plate lights. The licence plate light ensures that your licence plate is clearly legible. The licence plate light is usually mounted at the rear of the vehicle.
Is licence plate lighting compulsory?
Licence plate lighting is not mandatory for agricultural vehicles that were put into service before 1 January 2018. Is your agricultural vehicle taken into use after 31 December 2017? Then your tractor does require registration. It is therefore mandatory to have a number plate holder with lighting. From 2018, agricultural vehicles must meet the approval requirements. Licence plate lighting is one of those requirements.
If you are planning to purchase a new agricultural vehicle, it is wise to assume that it must have licence plate lighting in order to be allowed to drive on public roads.
What colour is the licence plate light?
The most important thing about licence plate lighting is that the licence plate of your agricultural vehicle is clearly legible. This must be the case in all weathers. It is therefore important that the light is as colourless as possible. This way, the colour of the licence plate will not appear changed. In a previous blog about the Differences between LED and halogen worklightsA graph can be read that shows the different colours of lighting very well. In this image, it is very clear that LED lighting is the most colourless. LED is the best option when it comes to licence plate lights. In addition, a licence plate light should not shine backwards. This could hinder other people.
Featured product


M10KV-110: Implemented in multivoltage (12/24v)


This licence plate light in multivoltage (12/24) can be used in many ways. This licence plate light is ideal for your truck, trailer and semi-trailer. With this lamp, you comply with the license plate requirement for tractors.


View product
How many watts does licence plate lighting have?
LED licence plate lights have a very low wattage. The LEDs used for license plate lighting consume around 1 watt. Often even less. Despite the low wattage, LED licence plate lighting has the same efficiency as other types of lighting. This is because LEDs do not lose energy to heat. This ensures that it also requires less energy to burn.
Ways of connecting LED licence plate lighting
TRALERT® has a wide range of LED licence plate lights. The lights can be connected in various ways. In total TRALERT® offers four ways to connect your LED licence plate lights. The four ways of connecting the lights are:
Cable connection
0,75 mm2 DC connector
1,5 mm2 DC connector
2 PIN LED Autolamps
What is important now?
What is really important now is that you have registered your tractor or other agricultural vehicle with the RDW before 31 December 2021. If you do this after this date, it will make a huge difference to the costs. Then you will receive the registration number which must be attached to your tractor or other agricultural vehicle including the correct lighting. This has to be done at the back of your vehicle. If your agricultural vehicle does not have a registration number, you risk a fine of 140 euros. If the vehicle is not registered, the fine is even higher. In that case, you will lose 380 euros. So make sure you are prepared for the new year!