LED work lights come in all shapes and sizes. This makes this category of LED lights suitable for different types of vehicles. For example, there are also specific LED work lights for farm machinery, tractors, and tractors. If you make long days, it is likely that you regularly work before sunrise or after sunset. Good LED lighting is then essential when carrying out your work.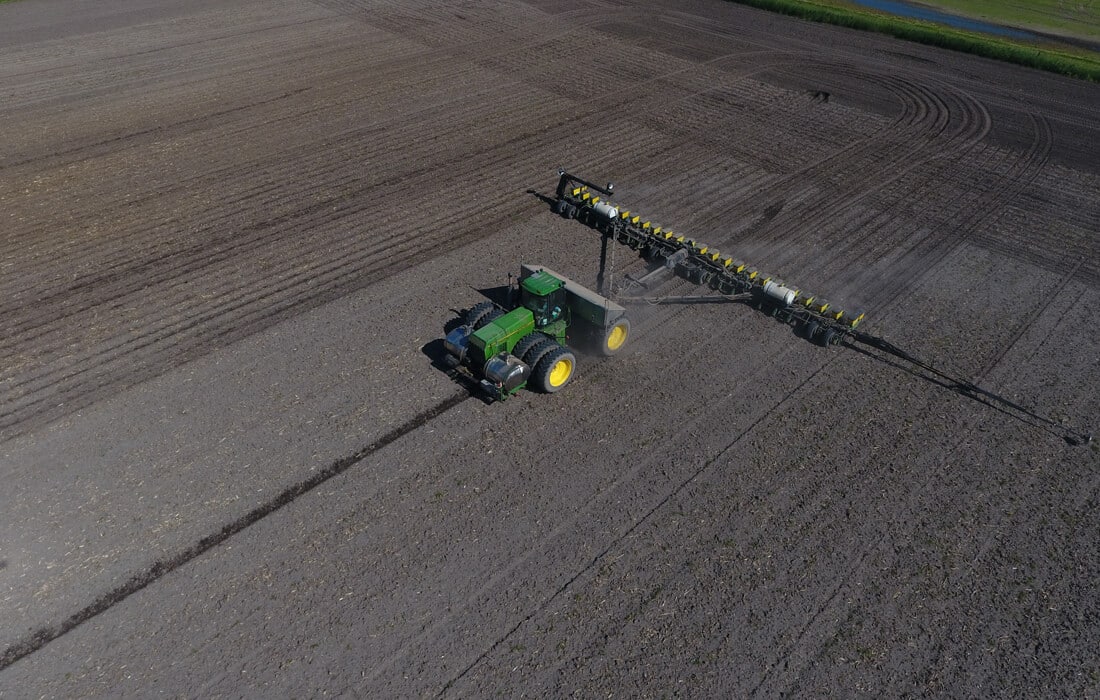 LED work light agriculture: an increase in use
In recent years there has been a significant increase in the use of LED worklights in agriculture. Logical, we think, at TRALERT®. LED work lights have quite a few advantages when we talk about compared to conventional halogen work lights. When we look at the casing of the LED work lights for agriculture, for example, we notice that most of the work lights have a strong aluminium casing. The biggest advantage of this is that the lamps can take a beating. This is in contrast to the traditional halogen work lights or cheap LED work lights. In addition to the housing, LED agricultural work lights also have a higher light output and lower power consumption.
MOT test LED worklights for agriculture
When you connect LED work lights to your tractor or semi-trailer, different rules apply than when you connect them to a truck, trailer or semi-trailer. A tractor does not have an MOT and in addition, the tractors usually drive on their own property or land. However, drivers of tractors or agricultural vehicles must also comply with the official laws and regulations. For example, it is mandatory for a tractor to have dipped headlights, city lights, turn signals, tail lights, brake lights, and a left side mirror. In addition, each tractor must have two or four non-triangular red retro-reflectors mounted at the rear. Furthermore, agricultural vehicles must be equipped with a yellow flashing light when the vehicle is wider than 2.60m or when work is being carried out on or along public roads.
As you can read above, LED work lights agriculture are not a mandatory part of the lighting kit. In fact, it is not allowed to use LED work lights on public roads. They may only be used while working or on your own property.
Replacing halogen work lights on your tractor or tractor
Replacing halogen lights for LED lights is very easy due to the different connectors that TRALERT® can provide when purchasing the lights. Most of TRALERT®'s work lights are equipped with a Deutsch connector as standard. This makes replacing the LED lights a piece of cake. You only need to disconnect the old lights and connect the new lights.
LED work lights tractor: what lights do I need?
In order to be well prepared to face the dark days, we would like to recommend the following equipment. This equipment takes into account different types of lighting, which can be mounted at different places on the tractor.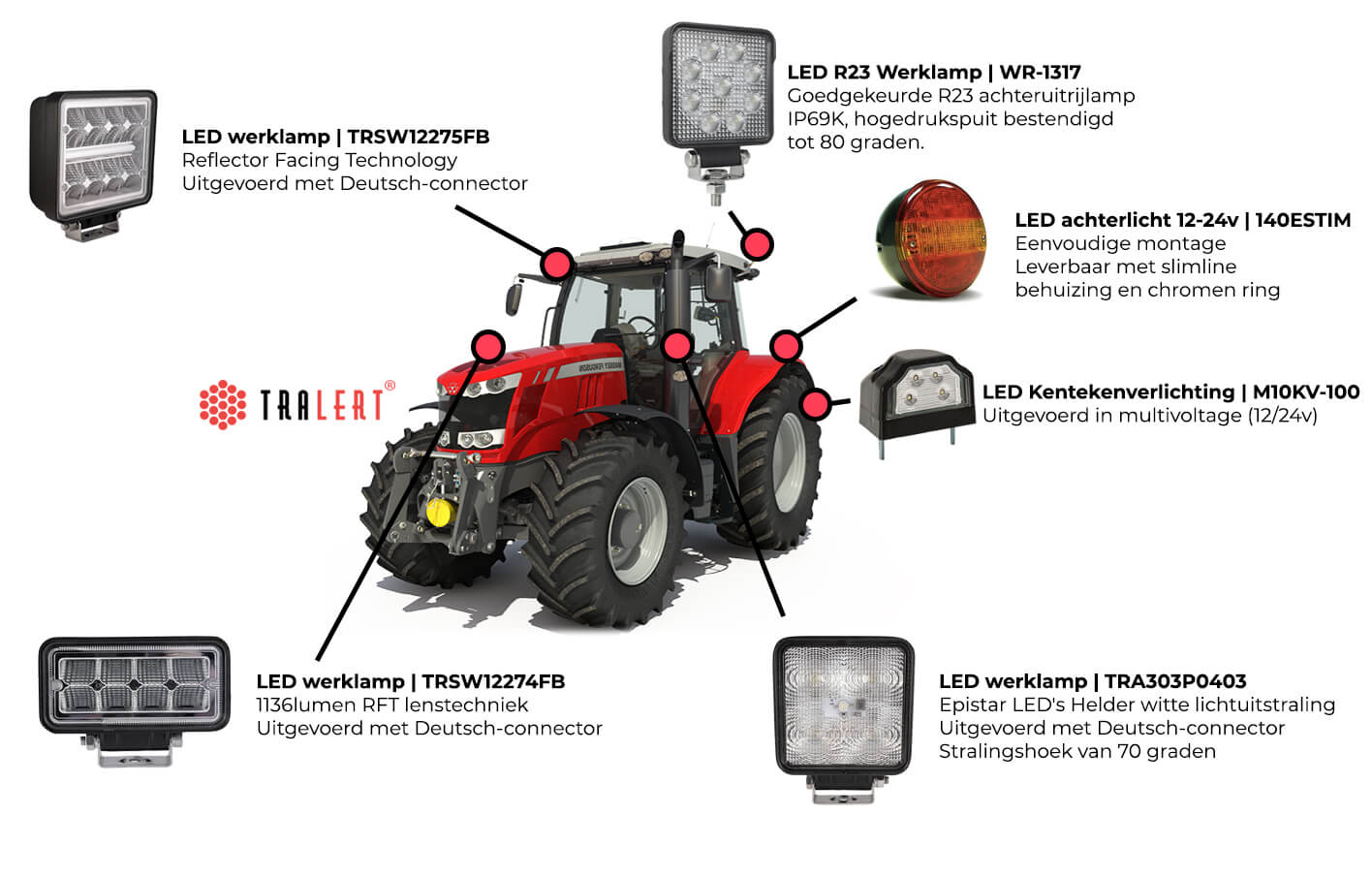 LED working lights tractor for cabin
When working in the dark, it is of course important to be able to see what is happening in front of you. To ensure that the road surface is well lit even in the dark, we suggest installing two powerful LED work lights here with a narrow beam. This will give you good visibility over a greater distance. The LED worklight that is excellent for this is the LED worklight TRSW12275FB. The LED work light features the latest Reflector Facing Technology. This technology ensures an efficient spread of light, so that stray light is not an issue. Because the Philips LEDs are placed in opposite directions, a very focused light beam is created on this LED worklight agriculture.
LED work lights on the back of the cab
In addition to the front of the agricultural machine, the rear should also be provided with powerful light. Here we would recommend using two LED work lights that have a beam angle of 60+ degrees. This will ensure that not only the tractor is well lit, but also the attached machinery. The agricultural LED work lights we recommend for this are the WR-1317 and the TRSW12274FB. These work lights are both pictured in the image above. The WR-1317 is R23 certified, which means the worklight can also be used as a reverse light.
In addition to work lights, it is a legal requirement to install a good set of LED tail lights on your vehicle. As you have read above, the vehicle must have at least turn signals, tail lights and brake lights. A good combination LED taillight is the 140ESTIM. Like the pictured agricultural LED work lights, these taillights are among one of the best-selling products in the TRALERT® lineup.
LED work lights tractor: front and sides
To ensure that the area around the farm vehicle is well lit, you could place another LED work light on both sides of the vehicle. We recommend choosing LED work light that has at least a beam width of 60+ degrees. A strong LED worklight for agricultural vehicles is the TRA303P0403. This worklight features Epistar LEDs with a bright white light output.
Free advice from our technical specialists
After reading the above blog, do you have questions about which LED work lights are the best fit for your agricultural vehicle? Then feel free to contact us. We'd be happy to help.