If you work with forklift trucks, chances are you've seen them - blue lights that project a dot or an arrow on the ground. We commonly call these 'safety lights' because they are designed to make the area around a forklift truck safer. But how do these safety lights work and why is the colour blue? There are also red lights that are used on forklift trucks to make the area safer. We have recently introduced new models of LED lights that have been specially developed for safety on forklift trucks.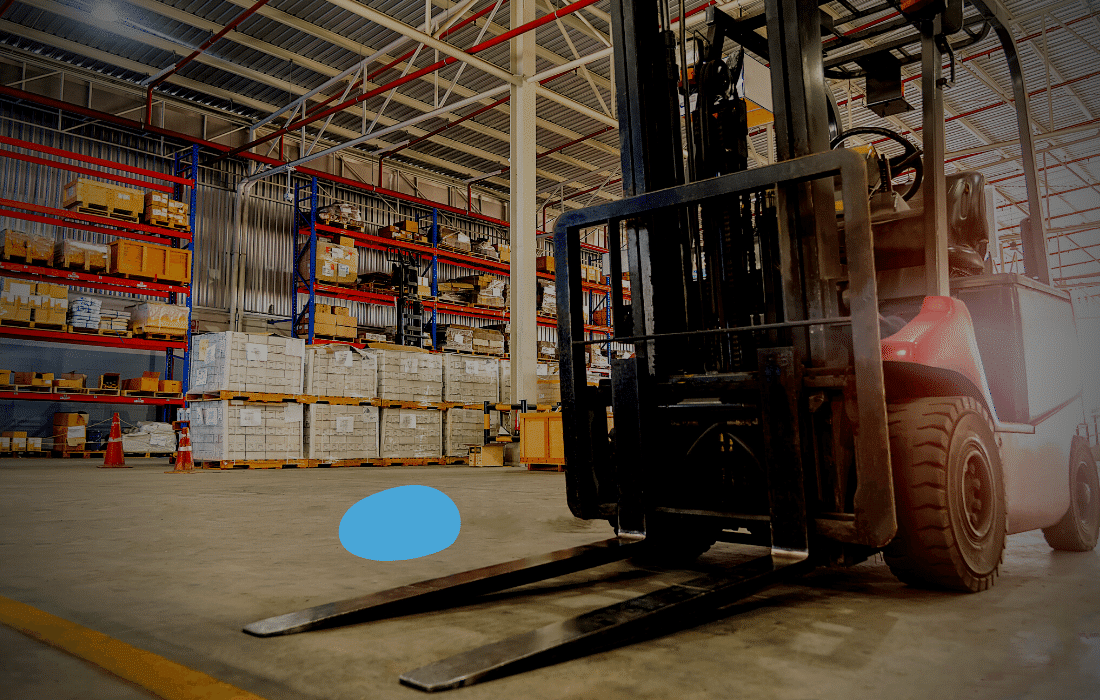 Blue LED lights; dot or safety arrow
The blue lights on forklift trucks have a clear purpose, warning pedestrians and your colleagues in the workplace. These blue lights enhance safe working with a forklift truck, by warning your colleagues when you drive the forklift backwards. When reversing, you as driver have less visibility and can inadvertently overlook people. Lighting can be the solution to make the people on the floor aware of your movements. This is very important, because accidents - fatal accidents - still happen every year with forklift trucks.
On average there are 126 serious accidents involving forklift trucks per year, with 4 fatalities, 36 victims with (probable) permanent injuries, 63 recoverable injuries and 47 unknown injuries. Most common types of injury are bone fractures, head injuries and amputations*.
Installation of a safety light on a forklift truck
We recommend that you mount the blue LED lamp in a high, strategic place. In many cases, the roof of your forklift truck proves to be a good place with sufficient mounting and connection possibilities. When mounting the safety light, make sure you adjust the blue projection correctly. The warning effect works best if the blue light reaches the ground clearly and does not fade. However, it is also important not to position the projection too close to the back of your forklift. This way the space is too small and the safety effect is reduced. So after connecting the blue forklift lamp, check whether this margin is correct.
We recommend an optimum projection surface of 2.5 metres for safety lights from the FL series, which includes the blue dot and blue arrow forklift lights.
The function of the blue dot forklift lamp
The function of the blue dot of the forklift safety light is to mark out the movement/direction of the forklift. Now I understand your thoughts; how can lighting be considered sufficiently warning? This is not quite the case. Forklift trucks are obviously equipped with sounds to alert your colleagues to their movements. However, warehouses are often noisy environments. As a result, squeaking noises, for example when reversing, cannot be picked up by your colleagues. The background noise is sometimes simply too loud. An optical warning can therefore work better.
In noisy warehouses, warning sounds can drown out the background noise. Therefore, an optical warning in the form of LED light can be more pleasant and safer in some cases.
What new blue light on forklift trucks does TRALERT® have?
The bright blue spot lamp from LED Autolamps is a real eye-catcher. The new model 'FLBA01' projects a circular bright blue spot on the (warehouse) floor.  This lamp is not only powerful, but also looks good with the internal blue ring design. Because this is a forklift lamp, the blue spot lamp is equipped with a high voltage circuit board. This makes the lamp able to withstand 10 volts to 80 volts. As your forklift will probably be used mainly in the warehouse, it is good that the lamp can take a beating. That's why it has a fully dust and waterproof design (IP67) and is shock and vibration resistant. The latter is especially important, as the lamp on your forklift will be exposed to significant vibrations. By the way, you don't have to worry about the guarantee on the internal components. At TRALERT® we are pleased to offer you a 3-year guarantee on this model blue spot.
Blue dot safety lamp forklift

FLBRS01: Water, dust and shockproof to IP67, ECE R10 approval and 3-year warranty.

Clear and bright projection, multivoltage (10v - 80v) and perfectly combinable with the other lamps of the FLB series
Want to work safely in your logistics centre? Then take a look at this Blue Spot safety light. The spot is clearly projected on the floor and thus contributes to a safe work situation. The wide voltage range (up to 80 volts) makes this safety light perfectly suitable for internal transport such as a forklift truck & reach truck.


Forklift bulbs video

View blue arrow lamp
Which new blue arrow lamp does TRALERT® have?
To make your backward movements in the forklift clear, the same lamp can also be equipped with ablue arrowAt first glance, this blue arrow LED lamp is identical to the blue spot lamp, which makes it nice to mount both of them next to each other on your forklift trucks. Also for this lamp, we recommend 2.5 metres for a minimum mounting height.
Other safety lights for your forklift truck from TRALERT®
Other safety lights that you can find in the TRALERT® assortment are the red half circle forklift light, the 'red dot' safety light and the 'Red line' safety light. To give you a short description of the different lamps, we have listed them below.
Blue arrow safety light forklift




FLBA01: Water, dust and shockproof to IP67, ECE R10 approval and 3-year warranty.

Clear and bright projection, multivoltage (10v - 80v) and perfectly combinable with the other lamps of the FLB series Want to work safely in your logistics centre? Then take a look at this Blue Arrow safety lamp. The spotlight is clearly projected on the floor and thus contributes to a safe work situation. The wide voltage range (up to 80 volts) makes this safety light perfectly suitable for internal transport such as a forklift truck & reach truck.



Forklift bulbs video

View blue spot lamp
Red line safety lamp forklift truck




FLBRS01: Water, dust and shockproof to IP67, ECE R10 approval and 3-year warranty.

Clear and bright projection, multivoltage (10v - 80v) and perfectly combinable with the other lamps of the FLB series Want to work safely in your logistics centre? Then take a look at this Red line safety lamp. The red line is clearly projected on the floor and thus contributes to a safe working situation. The wide voltage range (up to 80 volts) makes this safety light perfectly suitable for internal transport such as a forklift truck & reach truck.



Forklift bulbs video

View Red line lamp