Working safely with a forklift truck in a warehouse. It sounds easy, but sometimes things can get hectic. For example, when there are many deliveries to be made in a short period of time. Or when new stock is delivered in large numbers. When things get hectic, it's nice to have technology you can count on, as well as being able to rely on your colleagues. The lift truck is a smart device in terms of safety. For example, trucks nowadays can automatically slow down on bends and display blue or red arrows on the ground when reversing, so colleagues know you're coming. In addition to these, there are many other methods or tools that make it possible to work safely with a forklift truck.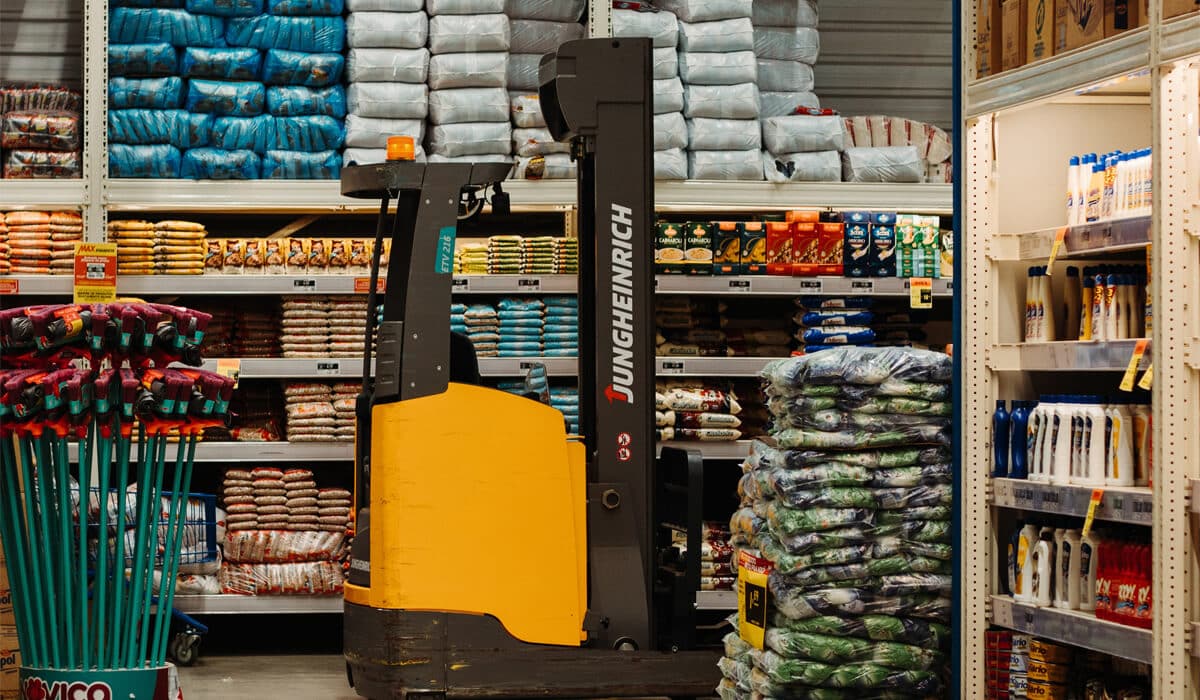 1. Increasing forklift safety through the use of parking brakes
To enhance safety when working with the lift truck, a parking brake or hand brake is built into every lift truck. The purpose of this brake is to prevent the forklift truck from rolling when it is on sloping ground. The parking brake has been developed so that it can be used even when the forklift is not moving. Use it to your advantage! Use the parking brake not only when you put the forklift away at the end of the day but also when you get off the machine. This is how you make safe working with a forklift truck possible.
2. Use a safety belt when working with a forklift truck
To legally comply with forklift safety laws, drivers are required to use a safety belt. In addition, safety restraints or an Access Control system provide even more safety. The Access Control system ensures that the truck does not release the brake until the safety belt is clicked on.
3. Safe working with the forklift truck by means of LED lighting
Working safely with the forklift truck is done with good LED lighting. Just like any other driver, good visibility is extremely important for safety when using a forklift truck. It is important to stand out. In fact, forklift visibility by means of lighting is in the top ten measures for improving safety in your warehouse. Good forklift lighting is therefore indispensable.

Blue spot lamp
By installing coloured lights on your forklift truck, such as the Blue spot lamp, A clear blue dot shines on the floor of the warehouse. This will remind your colleagues in the warehouse that there is a forklift truck nearby. The blue light on the forklift truck has a clear purpose - to warn your colleagues on the shop floor. When reversing, the driver has little view of what is happening around him. You are, after all, concentrating on carrying out the work. The use of safety lighting helps enormously in making working in the warehouse safer.
LED worklights on a forklift truck
As well as lighting to warn your colleagues, good driving lights are also important. When lift trucks are used at night or in dark places, it is highly recommended to equip the truck with a good set of LED worklights to work safely. These working lights can be mounted on the front, top or rear of the forklift truck. It is also necessary to equip the forklift truck with lights when driving on public roads. That way you will never be faced with surprises.
Forklift safety with lighting for public roads
When you take a forklift onto the public highway, the forklift is a means of transport and in addition to the Working Conditions Decree the Road Traffic Regulations also apply. When driving on public roads it is necessary to have at least the following set of lights on the forklift:
Two headlights (not working lights) at the front;
Direction indicators at both front and rear;
Alarm lights;
Two rear lights and two brake lights.
It is also important that the rear of the vehicle is fitted with a red reflective triangle, better known to us as a triangular reflector. If your forklift is longer than six metres, it must be fitted with extra direction indicators and orange retro-reflectors.
4. Create a forklift-friendly layout
To work safely with a forklift truck, there must be enough space between the racking. This allows for forklift trucks to manoeuvre carefully, but at a fast pace, through the various aisles of the warehouse. When you have a full warehouse, the width of the racking makes it easy to manoeuvre a forklift safely.

5. Safe operation of the forklift truck with the load diagram
To enable safe working with a lift truck, a load diagram is fitted on every lift truck. The load diagram contains important information about the working load, the load centre distance, the lifting capacity and the lifting height. This information helps the driver of the lift truck to determine whether it is safe and responsible to transport a certain weight.
6. Ensure the involvement of staff
Although there are many tools to help make forklift operations safe, people are the most important factor. It's people who make up the rules, and hopefully follow them. In our blog on blue LED lights you can read that there are on average 126 serious accidents involving forklift trucks each year. In order to prevent this, it is very important to create involvement and support among the staff. As mentioned before, it can be difficult to keep an overview in a busy warehouse. In addition to the above, it would also be a good idea to put up various signs and signals in the warehouse so that everyone is reminded of the rules around forklift safety.
7. Have your forklift truck checked regularly
To ensure your lift truck meets all safety standards, it is important to keep it in good and safe condition. A periodic inspection by a certified mechanic can't do any harm. Apart from the fact that working safely with a certified forklift truck goes better, it is also mandatory to have the forklift inspected periodically due to the Dutch Working Conditions Act.
One part of this inspection is the use of lighting on your forklift truck. Do you have questions about which lighting is best to use on your forklift? Then feel free to contact our technical specialists. Would you like to discover our entire range of LED lighting for yourself? Then take a look at our dealer portal.