LED brake light and LED rear light, important parts of your vehicles. Almost every vehicle has both brake light and tail light. These lights are located at the rear of your vehicle. But what exactly are the brake light and tail light for? And what is the difference between the brake light and tail light? We will explain this in this blog!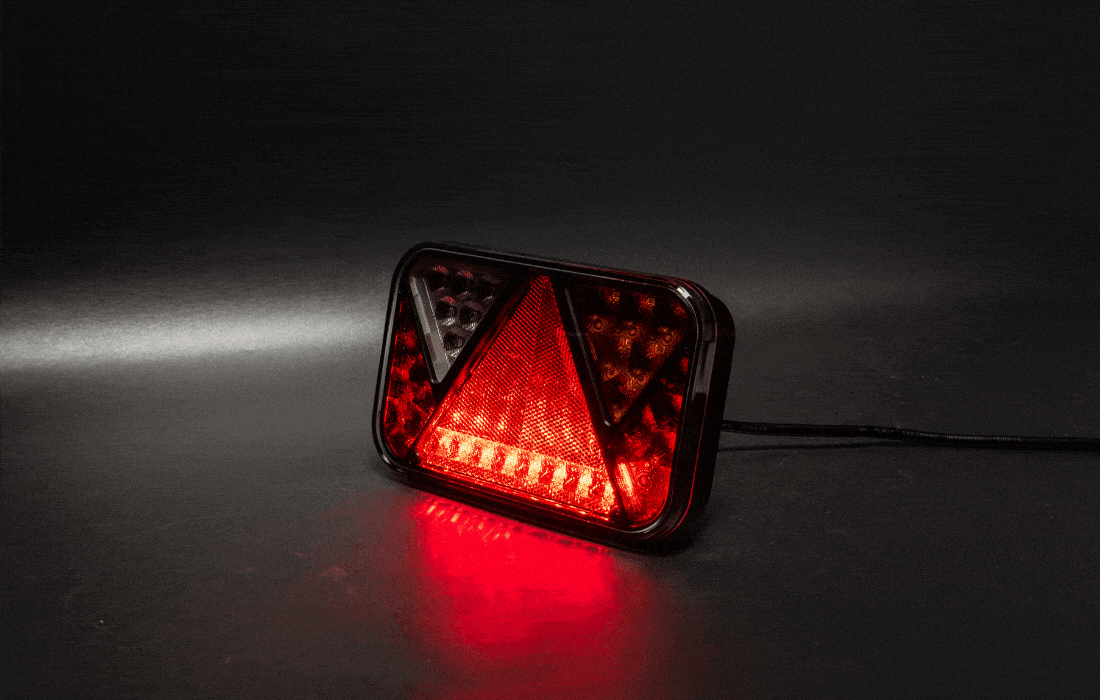 DIFFERENCE BETWEEN BRAKE LIGHT AND TAIL LIGHT, WE EXPLAIN!
The LED brake light serves to warn your fellow road users when you are going to reduce speed for a traffic light. This allows them to anticipate the situation and avoid accidents. If your car was put into service after 30 September 2001, it is compulsory to have a third brake light at the rear. When a light is defective you can get a fine of 90,- Euros. In this case it does not matter that the other two lights are working. All brake lights must also work if the car is to pass the MOT test. The brake light distinguishes itself by its brightness. When you press the brake pedal, the brake lights will be brighter than the rest of the lights.
Rear light
The LED rear light is to make you visible to other road users. Think of situations in the dark or in bad weather. In winter weather, the rear lights are even more important. When these lights are difficult to see or defective, they can result in hefty fines. The rear lights must also all work for the APK inspection. Here there is no difference from the brake lights.

DO THE RULES FOR BRAKE AND REAR LIGHTS ALSO APPLY TO OTHER VEHICLES?
As mentioned earlier, three brake lights and two rear lights are compulsory at the rear of a car that was put into service after 30 September 2001. But do these rules also apply to other vehicles such as: trucks, trailers, motorbikes and agricultural vehicles? Rear lights and brake lights are compulsory on almost every motor vehicle, although the rules differ for each vehicle. The exact rules for each vehicle can be found below.
TRAFFIC
The lighting requirements for the brake light and tail light for freight traffic are the same as for passenger cars, only there are a few additional rules. Here too, two brake lights and two rear lights are mandatory. In addition, extra line markings and two red reflectors must be present. This only applies to freight traffic and not to passenger cars.
PENDANTS
The lighting requirements for trailers are almost the same as for cars. Here only two brake lights are required instead of three. No distinction is made for rear lights compared to passenger cars. Two of them must be present.
KRAFTFAHRZEUGE
With motor vehicles, it is slightly more complicated. If you have a motorbike, you are obliged to have one rear light and one brake light. If you have a three-wheeled motor vehicle with a width of 1.3 metres or wider, two brake lights and two rear lights are compulsory. Three-wheeled motor vehicles which are narrower than 1.3 metres may have one brake light and one rear light.
AGRICULTURAL VEHICLES
The same rules apply to agricultural vehicles as to freight traffic. Two brake lights and two rear lights are therefore mandatory on this vehicle.
WHAT DO THE BRAKE AND REAR LIGHTS HAVE TO COMPLY WITH FOR THE MOT?
Firstly, all the lights must work, everything must be moisture-proof and the light image must not be distorted. Secondly, the lenses will have to be clear and uncoloured. Finally, the brake lights will have to be red or amber and the rear lights red. White is not allowed and will have to be rejected and replaced.
DIFFERENCE BETWEEN HALOGEN/LED BRAKE LIGHTS AND TAIL LIGHTS
Halogen and LED are the most commonly used light sources today. This is also the case for rear lights and brake lights, but what exactly is the difference between these light sources and which light source do we recommend?
HALOGEEN VERLICHTING
One of the advantages of halogen lamps is that they have a good light strength and width. In addition, halogen lamps are relatively cheap to buy and have very good colour rendering. Halogen lamps also have a number of disadvantages. First, they do not have as long a life as LED lights. In addition, the lamps become very hot and are therefore inefficient with the energy that is released. In addition, halogen lamps cannot cope with high voltages, which cause them to break down quickly. Finally, halogen lamps may no longer be produced from 2018 onwards. The reason for this is that halogen lamps are too bad for the environment. If you are looking for lighting, halogen lamps will no longer be found quickly.
LED LIGHTING
LED lamps have many advantages. First of all, these lamps are very efficient with the energy that is released, almost none of it is lost. In addition, the lifespan is up to 35 times longer than halogen lighting. LED lighting is also available in different shapes and light colours. In addition, LED lights are more resistant to peak voltages and have a very good range of brightness. All these advantages and good qualities result in a slightly higher purchase price in contrast to halogen lighting. However, as previously mentioned, LED lighting lasts much longer, which covers these costs. TRALERT® stands for high quality and service. We therefore recommend LED lights instead of halogen lamps. These LED lights simply have more advantages.
TRALERT® RANGE IN LED BRAKE LIGHT AND LED REAR LIGHT
At TRALERT® you are in the right place when it comes to LED brake lights and LED rear lights. With our broad and deep product range we can always be of service to you. In our assortment you can find high quality individual brake lights and tail lights. We also offer lights where LED brake light and LED rear light are in combination, also called combination rear lights. This is a rear light where all the necessary bulbs are in one. The advantage of this is that you don't have to mount all bulbs seperately, but everything is incorporated in one bulb. These lights are also available with a dynamic flashing light. Combination lights are also available with a striking Lavaflow look, also known as neon. Finally, the combination lights can be fitted with licence plate lighting on the bottom, left or right side of the combination LED rear light. These indicators provide a professional look to your vehicle.
This block contains unexpected or invalid content.
FEATURED PRODUCT
VC-2001B7.1, LED Neon rear light
This combination light is equipped with a brake light, rear light, reversing light, triangular reflector, dynamic flashing light and fog light. This LED light is very suitable for your trailer, semi-trailer or truck.
View product
HAMBURGER LAMP BRAKE LIGHT AND REAR LIGHT
As mentioned earlier, you can use a combination lamp as a solution for your vehicle. One lamp for all the lights on your vehicle. TRALERT® also offers you another option. Our product range also includes individual lamps. One example is the hamburger lamps. These round lights are available with fog light, reversing light and normal lights. If you mount them next to each other on your vehicle, you will still have all the mandatory lighting. Below is a picture to get a better idea of the hamburger bulbs.

ARE THE BRAKE LIGHTS AND TAIL LIGHTS CERTIFIED?
As mentioned at the beginning, TRALERT® stands for quality of their products. This quality is reflected in the products. These are all CE-marked and E-marked. The CE-mark is a European agreement on the safety of various products in the European Union. Would you like to know more about the CE marking? We have written a blog about this too.
WHY CHOOSE TRALERT®?
TRALERT® is the specialist when it comes to LED vehicle lighting. Our LED brake lights and LED rear lights are frequently tested for quality and improved where necessary. Therefore, our lights are always of high quality. Should there still be a lamp that breaks down, that is no problem. With our service, we offer you a 2-year or even a lifetime guarantee. So you can be sure of the quality you are buying. In addition, we also offer technical support where necessary in choosing the right lighting.
WHAT IS THE DELIVERY DATE FOR THE BRAKE LIGHT AND REAR LIGHT?
TRALERT® stands for good service, therefore we ensure fast delivery. Because 90% of our product range is in stock we can also achieve this. If you order before 15:00, you will receive your brake light or rear light the next day.
WHICH BRAKE LIGHT AND REAR LIGHT IS SUITABLE FOR MY VEHICLE?
Almost every brake light and rear light is equipped with a 9-36v multivoltage. This means that these lights can be fitted to almost any vehicle. In addition, our camping experts are always on hand with technical advice. Can't work it out? Then call or send an e-mail to TRALERT®.
Curious about our product range in rear lights?