A common question among trailer dealers: why choose LED rear lights on a trailer? In this blog, we will answer this question for you. Furthermore, we will talk about what to look for when choosing new LED tail lights for your trailer and we will discuss the advantages and disadvantages of LED tail lights. Finally, we will conclude with our views on LED lighting for trailers and will explain why we believe LED lighting is the future for trailers or trailers.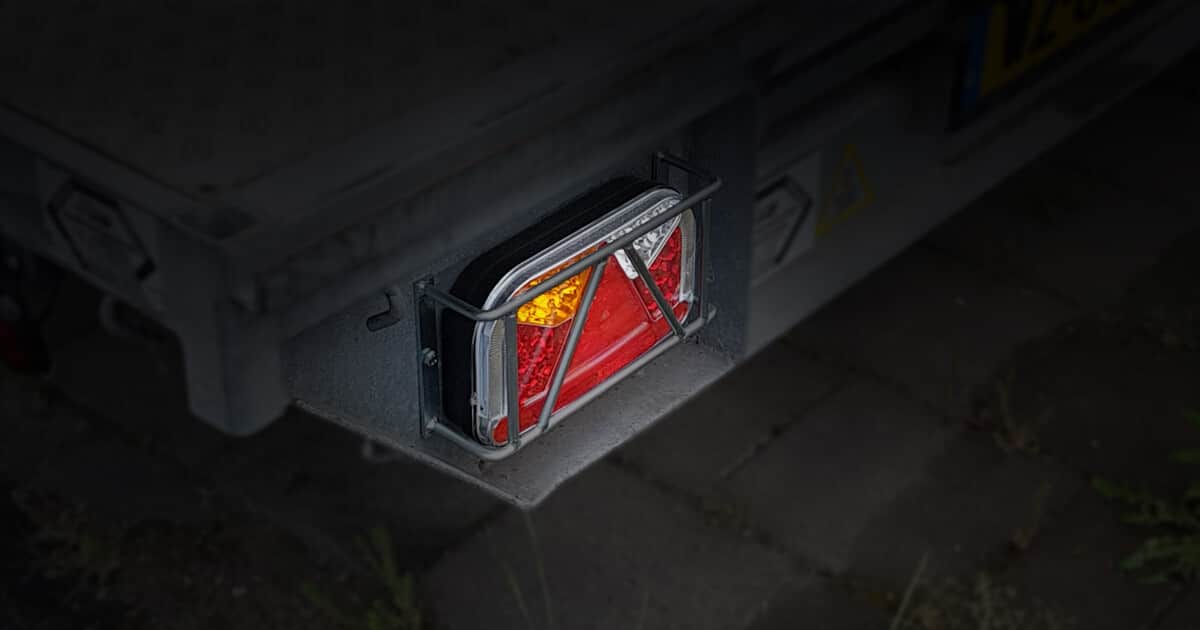 What should you consider when choosing new LED tail lights for your trailer?
A good set of LED tail lights on your trailer is of great importance. Not only for you, but also for your fellow road users. Good LED tail lights are visible from a great distance. This can come in handy when the weather conditions are rainy or stormy. In some situations, you may have to drive on dark roads around forests or nature reserves. Also in this situation it is, most safe to choose LED taillights on your trailer that are already highly visible from a longer distance.
Would you like to equip your trailer with good LED lighting? In the TRALERT® product range, there is a suitable lighting solution for every demand. Feel free to view the product range on the dealer portal. If you have any technical questions about the products, you can always ask our technical experts, who can be contacted by telephone.
Pros and cons of LED taillights on a trailer
When you decide to equip your trailers with LED lights, it comes with advantages and disadvantages. The overview below will give you more guidance on what to expect when you swap your halogen lights for LED tail lights.
Benefits of TRALERT® LED rear lights on a trailer
Design: LED lights feature small, bright light bulbs. These are smaller in size than halogen lights. In most cases, LED taillights feature a sleeker design than halogen lights.
Energy consumption: LED lights consume 75% less power than halogen lights and 85% less than incandescent lights.
Sustainability Durability: In terms of durability, LED taillights are by far the best choice. Where a halogen taillight lasts about 500 hours (12.5 working weeks), the LEDs from a good set of LED taillights last about 50,000 hours.
Waterproof: TRALERT® LED taillights have at least an IP67 certificate. This means that the LED taillights are splash-proof and can therefore also be used in the rain.
Several connectors available: At TRALERT®, the LED taillights are available with different connectors. For example, the LED taillights are available with a 5 PIN's Bayonet Connector, 6 PIN's Bayonet Connector and a 7 PIN's AMP Connector. Furthermore it is also possible to order the LED taillights with cables of different sizes, including the 0 - 50 cm cable, 51 - 100 cm cable and the 100cm+ cable.
Disadvantages of LED taillights on a trailer
Pricing: Pricing: The only disadvantage of LED tail lights from TRALERT® is the purchase price, which in many cases is higher than comparable halogen tail lights. In another blog we compared the purchase price of a LED worklight with a halogen worklight. This revealed that purchasing an LED worklight is the most economical option over time. LED worklight compared to a halogen worklight. This showed that buying an LED worklight would be the most advantageous option over time.
Canbus malfunction: Canbus interference: Because LEDs consume so few amps, this can interfere with the CANbus of modern vehicles. This can lead to flickering lights and, in the worst case, to lighting failure. To counteract this TRALERT® offers various CANbus solutions and we recently started offering a Canbus-proof LED taillight. Canbus-proof LED rear light on.
Featured product


Tested on 200+ vehicles!


This VC-2700CAN series is an extension of the widely sold VC-2700 series LED tail lights. This typical taillight is designed specifically for trailers.


View product
LED tail lights for trailers: a trend or the future?
When we weigh the advantages of LED taillights for trailers against the disadvantages, the choice is obviously easy. As far as we are concerned, LED taillights are perfect for trailers and semi-trailers. The only disadvantage of LED taillights for trailers is the purchase price. However, this disadvantage is negligible because the number of burning hours of an LED taillight is much higher than a halogen taillight.