Last weekend, a huge amount of snow fell all over the country. Beautiful for the eye, but less fun for anyone who has to take to the public roads. In addition to scratching the windows and clearing the snow from the road, it is also important to check the tyres before you go on the road. LED rear lights to clear the roads of snow and ice. To avoid expensive fines, we have listed below all the fines you risk incurring when driving in winter weather.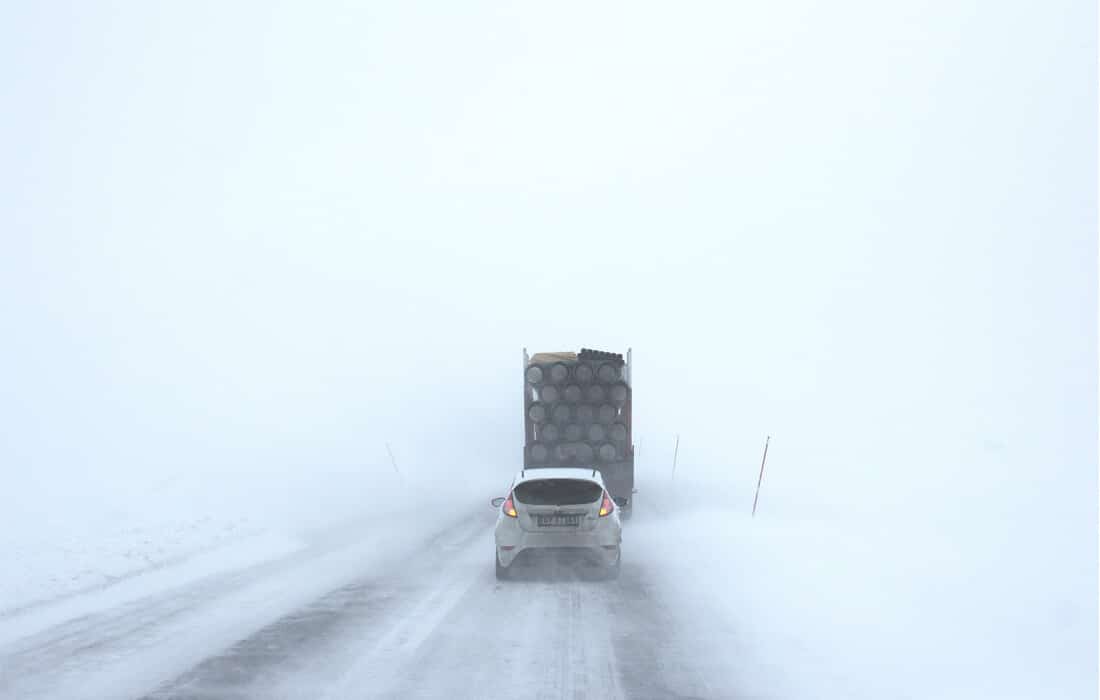 Snow or ice on your LED rear lights?
If you go on the road and your LED taillights are still full of ice or snow, you risk a €140 euro fine. Especially if your vehicle is equipped with LED lights, it is extra important to clear the lights of ice before you drive. This keeps the glass of the LED taillights cold while driving. Ice and snow will therefore not melt by itself due to the heat of the lights. Vehicles with halogen lighting usually (except during extreme snowfalls, such as last weekend) do not suffer from this due to the heat released by this type of lighting. However, we at TRALERT® would like to recommend that you use caution and clear your lights of ice and snow before driving, regardless of the type.
Is it raining or snowing? Then make sure your LED lights are on
Is it raining or snowing? Is it grey outside and is visibility poor because of this? Then make sure your LED rear lights are on. To avoid a €140 euro fine, do not use dipped beam or high beam headlights when visibility is poor. LED rear lights that are not fully on in poor visibility also mean a €140 fine. Completely forgetting to turn on your lights in poor visibility can result in a €280 fine. Never pleasant for you, and perhaps for your employer. These amounts are better invested in a good set of LED rear lights, to avoid this problem. Wouldn't you?
Switch off your LED lighting in the following situations
When the weather is bad, you would say that it is important to turn on your vehicle's lights. However, this is not always the case. When using your LED rear lights, please note the following: If you use your rear fog light unnecessarily, you risk a fine of €140. Using a fog light can cost you €95 euro. The front fog light may only be used when visibility is seriously restricted by fog, snowfall or rain. The rear fog light may only be used when fog or snowfall reduces visibility to less than 50 metres.
If you forget to switch off the main light and thereby obstruct oncoming traffic, this can cost you an additional €140.
A visible licence plate starts with good lighting
When you are on the road during winter, it is especially important to know the registration number of your vehicle. Before you hit the road, it's a good idea to check your windows and mirrors as well as your number plates. These should be clearly visible and not covered by a layer of snow. The fine is €45 if they are not properly legible. If a plate is missing or not readable at all, the fine can rise to €140. Another tool to make your license plate more visible is to add LED license plate light to your vehicle. With the help of lighting, your number plate is more visible, regardless of the weather.
Don't risk fines, prepare well for winter weather
Good preparation is half the battle. If you read the above article carefully, you can avoid several fines. The total amount comes to: €1260 euro. Therefore, make sure that your vehicle is equipped with the correct LED lighting. Do you have questions about how to best equip your vehicle for winter weather? Our product specialists are ready to get you through the cold winter months. Together with them, you can put together a lighting set that is suitable for your vehicle.
Source: Algemeen Dagblad, 2021.