Activate your TRALERT® dealer account
The entire range of high quality LED lighting at your fingertips.
We are proud to announce that our new Dealer Portal is up and running. Your account is ready and you only need to set your password. After you have set your password, you can start enjoying all the benefits immediately!
Instantly 1500+ articles at your disposal with corresponding b2b prices. Applying for an account is now easy! Click on the button below and get access to all benefits. Creating an account in three easy steps
For our existing customers, we have been kind enough to create an account already. You only have to create the password. Request a password today and get your account up and running.
Receive a link in your mailbox
After you have requested a password, you will receive a password in your mailbox. Did you not receive anything after requesting your password? Then please check your spam box. It is possible that the link ended up there.
Log in and enjoy all the benefits
Have you created a password? Good news! This means that you have gained access to the entire website. From this moment on you can enjoy all the benefits.
All functionalities at a glance
The TRALERT® dealer portal offers many advantages.
+1500 HIGH-QUALITY PRODUCTS
Direct access to the entire product range
On the webshop you have direct access to our range of 1500+ high quality LED products. Besides the products, we have also added the catalogues, so that you can easily find all the product specifications. Before or after you order!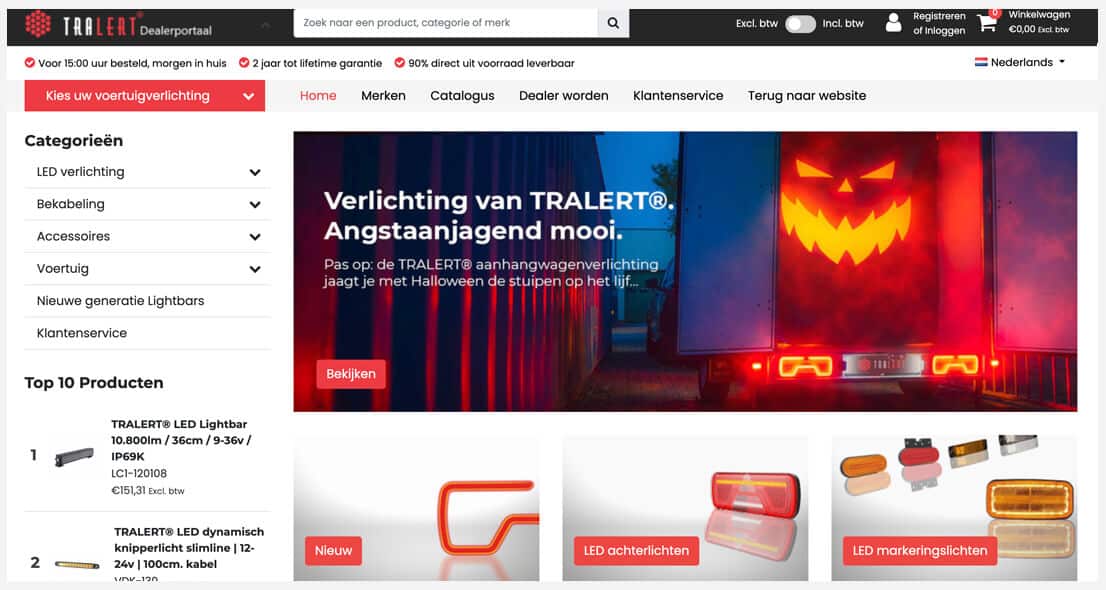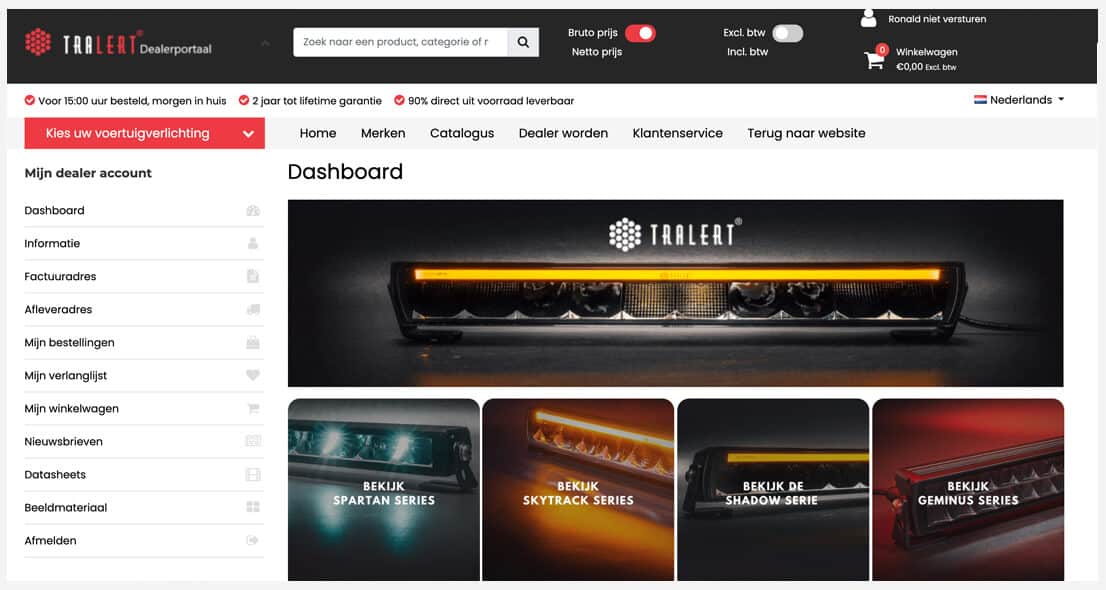 Want to view previous orders or re-order? No problem with the TRALERT® personalized dashboard. After creating an account you will have access to your own customer profile where you can easily adjust your personal preferences.
HIDE NET/GROSS PRICES BUTTON
Packed with useful features
The new web shop is fully equipped to meet the needs of our customers. For example, we have added a hide net/gross prices button on request. Is there still a function missing that you would like to see implemented? Please contact us.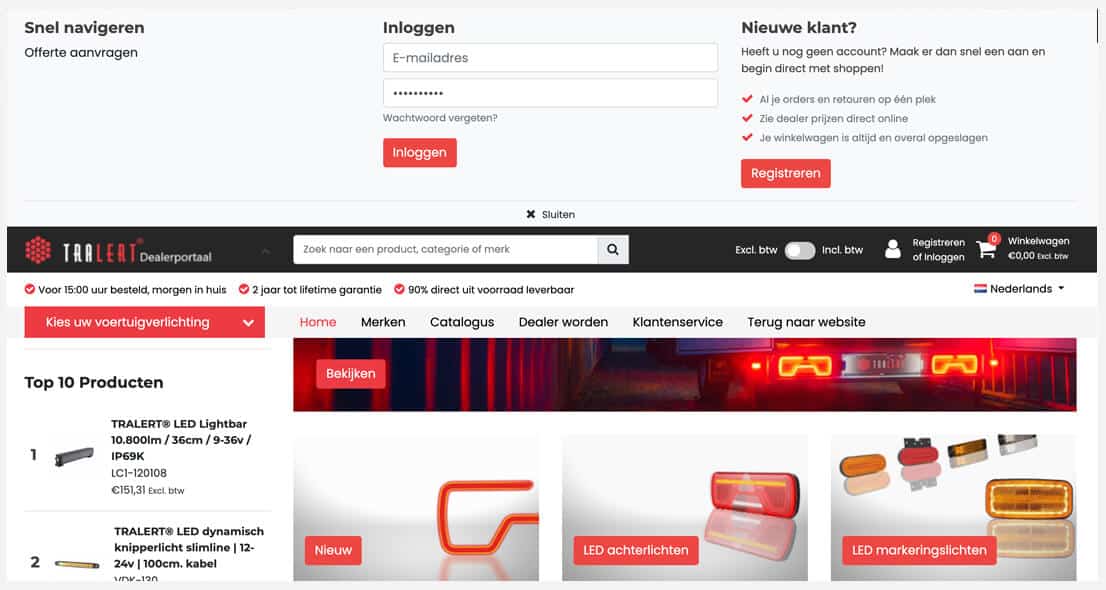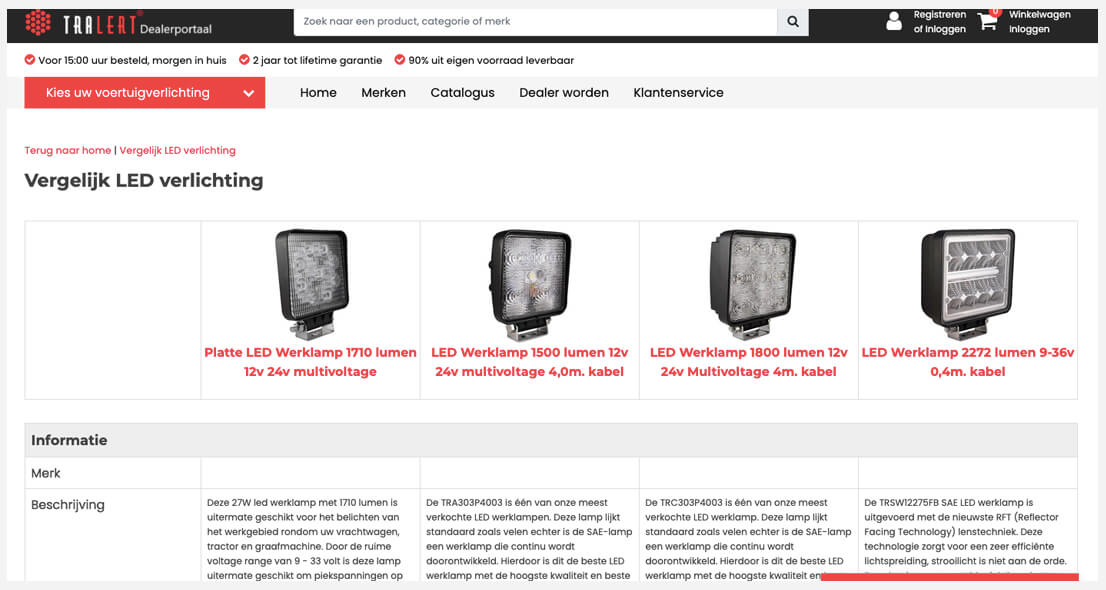 CHOICE STRESS? COMPARE DIFFERENT LED LIGHTS
Convenient comparison function
Which LED lighting is best suited to your vehicle? These questions are history with the new TRALERT® comparison tool. In the webshop you can easily add several products to the comparison function. You will then see all product specifications in a single overview.
EVEN FASTER TO YOUR DESTINATION
With the improved search function you can easily search by item code, property or specification. In the new TRALERT® webshop you will not have to search endlessly, but will be taken directly to your destination.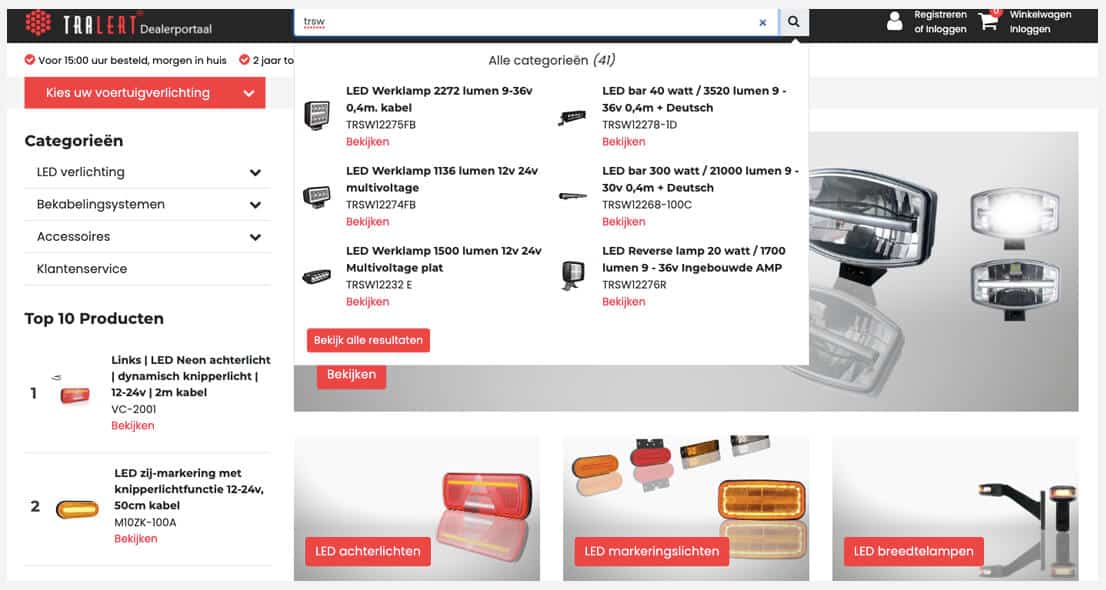 Request your password now!
Make use of all functionalities and advantages today.